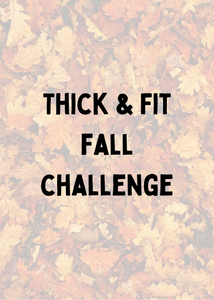 LOSE FAT, GAIN MUSCLE, TIGHTEN YOUR TUMMY, and GROW YOUR GLUTES !!!

If you're wanting to GAIN weight and GAIN muscle, you can do that with this challenge too! This challenge is perfect for all goals!
You can do this challenge from HOME OR GYM.
Breastfeeding /  NEWLY postpartum / C- section momma? No problem! You can still join us! There are modifications within the challenge! 
Please read ALL details below :
CHALLENGE STARTS :  OCTOBER 16TH
*Make sure the email you use at checkout is valid to receive challenge info! 
This is a 6 WEEK full body transformation challenge. THIS OPTION IS UNCOACHED: you get everything the COACHED option gets, just NO weekly check ins with Amanda (I am still active in the group chat and you can ask me questions directly!)
EVERYONE starts and finishes the challenge on the same date; workouts are 5 days a week and can be done at home OR the gym. The workouts take approximately 1 hour  to 1 hour & 30 min to complete based on endurance level, cardio, rest time, etc. you can do the workouts anytime of the day, anytime of the week, on your own time! 
New to working out? no problem! It is beginner friendly & there are substitutions!
What's included: 
PRIZES ( 5 winners based off of photo transformation) 
1st place:

$700 cash

 + FREE month of 1:1 coaching with me
2nd place:

  $100 cash + FREE ENTRY into my next challenge! 

3rd place: FREE entry into my next challenge  + supplement of choice from 1up nutrition
4th place:  1 up nutrition supplement of choice
5th place: surprise goodie bag from me!
PROGRAM
Access to my app with generic workout video tutorials if needed
Access to a private group chat for support and motivation
Private giveaways throughout the group within the 6 weeks
6 WEEKS of workouts/ 5 days a week with 2 rest days, with detailed instructions such as exercise, amount of sets, reps and rest.
Includes weight lifting, HIIT cardio, stretching, ab routines, and more
You can do It at the gym, or home , or alternate! 
Equipment needed: 
Cotton booty resistance bands  recommended

Two dumbbells between 10-15 lbs (higher if you need more resistance!)  NEEDED
NUTRITION
A detailed nutrition guide explaining macros (your calorie, fat, carb and protein intake) for WEIGHT GAIN OR WEIGHT LOSS! 
VEGAN AND VEGETARIAN options available as well as GLUTEN FREE IDEAS
Huge Grocery list for shopping and meal prep
Supplement suggestions
TONS of snack and meal ideas
ACCESS TO THE BODY BY ZIZZO APP WILL BE EMAILED PRIOR TO THE START DATE. NUTRITION DOCUMENT IS ACCESSED AS A PDF DOCUMENT, IMMEDIATELY UPON PURCHASE
PLEASE NOTE:  THIS IS A 6 WEEK CHALLENGE, AND ACCESS TO THE APP FOR THE CHALLENGE IS ONLY AVAILABLE FOR 6-7 WEEKS
*There are no refunds or exchanges for challenges*