FITMAS 6 WEEK CHALLENGE IS NOW OPEN FOR ENROLLMENT!
Thousands of women have completed the 6 week challenge & saw amazing results.. now it's your turn! Join the last challenge of the year, stay on tracking during the holidays while still eating the foods you love, and start 2024 off STRONG! $700 cash prizes + giveaways and more. Access the BBZ app for workouts, a huge nutrition guide with hundreds of meal + snack ideas, join a community of women in a supportive group chat, on the same journey! Take a look at some of the previous 6 week transformations & testimonials below
JOIN NOW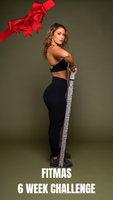 6 Week Challenge Testimonials
I am so happy that I joined your challenge! Its barely been a week and I see and feel change, already 6.8 lbs lost & this is just the start!

Challenge participant
I am beyond pumped for the workouts, the motivation you & all of the people in the challenge give is amazing and its nothing like anything I have ever experienced before!

Challenge participant
I am definitely joining the challenge again, the love and support in the group chat, and the accountability is the best!

Challenge participant
6 Week Challenge Transformations
Challenge Transformations
Challenge Transformations
Challenge Transformations
Challenge Transformations
6 Week Challenge Transformations
Challenge Transformations
Challenge Transformations
Challenge Transformations
Challenge Transformations
BLACK FRIDAY SALE: $200 off + get an extra month FREE: Looking for customized workouts and nutrition? Work with Amanda 1:1 online to reach your goals from home or the gym!
Reach your fitness goals at home or in the gym with Amanda. 1:1 coaching Includes everything you need in order to reach your goals. Guidance, structure, support, and accountability. Personalized nutrition plan + access to the Body By Zizzo Fitness App for workouts + check Ins with Amanda to make sure you're making weekly progress.
Get started now
Amanda's Transformation & Story
Mother. Wife. Fitness Trainer.
I had tried all of the "diets", the hours of cardio, and more. Through a few years of trial and error, and getting certified as a personal trainer, I finally began to see results and really fell in love with fitness. I also started my fitness journey over again after gaining 50+ pounds from having a baby! Fitness has allowed me to break through limits I never thought I could reach, and has constantly driven me to become the best version of myself.  My journey helped me find the confidence in myself that I was always searching for. My mission is to empower other women, help them get results, and encourage them to love themselves in their own skin!
Start your transformation
Thousands of lives changed. Real women, real results.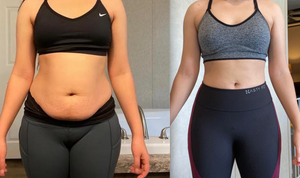 Ashley- 1:1 coaching and challenge
Amanda has been nothing but amazing from the start! She gives you all the information you need to succeed whether it's for a challenge or her 1:1 training. This is a sustainable program, no crazy dieting, and it becomes a habit that you LOVE. She's very knowledgeable in what she does, she personalizes everything for you and your goals which is amazing because there isn't a one size fits all in fitness journeys.  I have lost over 15 pounds since working with Amanda and my body has changed drastically! I feel strong and confident and most importantly, I am happy with myself. As someone who used to quit after a week of exercising every single month, this is has changed the game for me.
Nakiya - 1:1 Coaching
"I can't thank her enough, her and her program have really changed my life for the best. She has helped me and guided me on my postpartum journey. This journey started with me being very discouraged, and I was around 180lbs. I love that Amanda is a momma also because she made me realize I could do it and love my body at the same time. I started wearing a size 10 pants, then within a week or so a size 8 then just within the last 2-3 weeks I fit into my pre pregnancy pants which are a size 4.  I now weigh 156 and feel amazing I've lost a total of around 24 lbs! This is all a direct reflection of the coach and person Amanda is! She is so supportive and motivating! If it wasn't for her I wouldn't be where I am! Her program is truly the best and she caters to whatever you need! I really love this girl and what she does!"
Leticia - 1:1 Coaching
"This program has helped me accomplish all those goals I wanted to achieve, regarding weight loss, physical conditioning, and body image that I was always unsuccessful with. Now I feel a lot more comfortable with the way my clothes feel and look, & I feel more confident in myself. Amanda you are very kind, compassionate, and your ability to understand other peoples pain and stress related to their weight or body image is simply amazing! you're an awesome person and make for an excellent coach! The way you were able to work with my current situation with home workouts made the process seem within reach and not like a torture chamber. thank you for walking every step of the way with me in my fitness journey."
learn more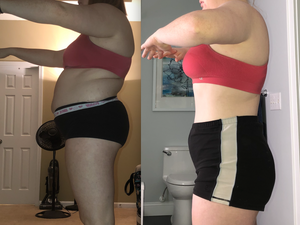 Abby - 1:1 Coaching
"Starting one on one coaching with Amanda was the best decision I've made in a very long time. She was amazing from the beginning! I came into this thinking "if I can drop 10-15 pounds I'll be happy"... 33 pounds later I am blown away!!! I was wearing gym clothes everyday and looping a hair tie through my jeans when I had to work because they wouldn't button. I wasn't fully prepared for the challenge I had taken on at first but with the guidance and support Amanda provides throughout the journey I was able to crush my goals. I have never felt more confident in my own skin!"
Bethany- 1:1 Coaching
"I wasn't really ready for a change, but I know God brought Amanda into my life around that time so I had someone when it all just finally clicked that I needed to change before I got worse. I'm not even exaggerating when I say Amanda Zizzo changed my life. When I first started her program I was 256 pounds (44 pounds shy of being 300) and now I'm 221 almost out of the 200s. My body is completely new and my self esteem has increased immensely. I've also noticed an increase in my strength Amanda's program is exactly what I needed to change my entire relationship with food and fitness and if you're wondering if you should take that leap.. you should."
Learn more
Zuheiry - 1:1 Coaching and Challenge
Funda - Challenge
" I wanted to start off by saying Amanda is an incredible coach. She is incredibly down to earth and so inspiring! Her workouts were very well planned out and I saw muscles coming in very soon after I started. My body started to change immediately. I didn't step on the scale until 6 weeks in I noticed I lost 10 lbs! It's not just about how my body looks, I feel so much healthier! I show up for my family better because I am also working on myself which makes me happier and more confident! This challenge was so rewarding I could cry!  I am so grateful I did this for myself."
Learn More
Stephanie - Challenge
"Im beyond happy with my results! In just two months i've lost a little over 10lbs and seen major changes in my body. Amanda has helped me with learning how to eat right, what macros are, very clear instructions with workout videos, and best of all was the group chat with other ladies on their fitness journey just like me. I loved the challenge so much im continuing with some 1:1 coaching!"
Learn More
Tambra - 1:1 Coaching
"Being apart of the BBZ squad has changed my life! I have tried a few other coaches and by far Amanda has been the best! She is so personal &  I absolutely love that. She truly cares about her clients and that shows big! I am a stay at home new mama and I was struggling with so many issues. Ever since I've started Amanda's program I've done a complete 360 in my life. My marriage is flourishing and motherhood is amazing. I know Amanda is a health and fitness coach but she did so much more than get me healthy. She made me happier & a better mom, wife, and friend. I will be forever thankful for her and all her support. I feel amazing I look amazing and I'm no where near done but because of her I will continue to push myself in the gym and nourish my body properly!" 
Learn More
Follow Along on instagram, YouTube, and tiktok @bodybyzizzo